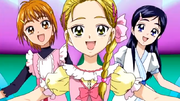 Max Heart Aikatsu! is CureHotaru's first fanseries on this wiki and also first season in fanmade Pretty Cure Aikatsu! series. It has Pretty Cure characters but it's happening on starlight academy.
Story
Nagisa and Honoka were normal girls, but one day they take an audition to become students of Starlight Academy and were accepted. They met each other here and one day they are chosen to take audition together. This time they became good friends and were both working hard to become idols.
Characters
Main characters 
Misumi Nagisa - Nagisa loves eating food and sweets. She is good at sports and played in lacrosse team in school she went before. 
Yukishiro Honoka - Honoka is great at studying and used to be in science club in school she went before. 
Kujou Hikari - Hikari is younger than Nagisa and Honoka and appear later in series, when new first years joined Starlight Academy. She became good friend with Nagisa and Honoka.
Others